Every business needs the right tools and technologies to streamline operations successfully. You can create an immersive experience by monitoring the asset's health and location from start to end. Hence, you need the right asset-tracking software that can help you:
Maximize the life of assets through enhanced asset utilization
Preventive maintenance
Deter theft
It can improve your business productivity by tracking construction equipment, a fleet of ships, or raw materials on a factory floor.
But what exactly is software asset management?
Why do you need it?
How can it help your business improve, change, and grow?
How can you get started with SAM, and how t-o choose the right solution?
If you have the same questions, we have this blog for you that covers all the aspects of SAM. Let's begin this guide with a brief introduction to SAM.
What is Software Asset Management?
Software asset management is the best tracking, evaluation, and management business strategy for software license rights, compliance, and optimization. It facilitates IT assets management, licenses, and audits. You can get the integrated help desk and keep tabs on your software assets to optimize IT spending.
SAM makes it easy to request, procure, manage software contracts, allocate to users or devices, and reclaim software license rights. Organizations can quickly identify the software license position. Just discover, normalize, and reconcile the software installations to software products, models, entitlements, and allocations.
Why Should I Go for Software Asset Management?
There are a lot of reasons why organizations choose ServiceNow SAM. You have to understand your needs, and then you can relate better to why you need software asset management.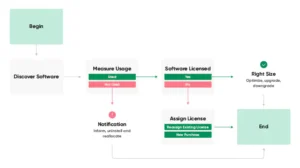 So, here are all the benefits that make you take SAM in 2023.
Cost Savings: It is imperative for every organization to save a lot. That's why with SAM, you can combine your various software environments in one place. This way, you can manage expenditures and save. Also, you can control information needed to guide future investment decisions.
Time Savings: It can be really time taking for organizations to account for software assets without involving a SAM system. Employees can share explanations for all necessary software asset information with an automated SAM system.
Automation: Many organizations monitor software licensing, taking a manual approach, but it will be way more costly, time-consuming, and error-prone. So, you can automate this process with SAM. It eliminates administrative activities and frees up the resources and workload of IT teams to concentrate on higher-value tasks.
Software License Optimization: Some organizations overpay due to a fear of being non-compliant. Hence, SAM can help you ensure that an organization uses only the necessary licenses and stays compliant simultaneously. It can save a lot more for your organization than an audit or being out of compliance.
Strategy: You can get valuable insights into your software future with SAM as it gives you transparency into your current and past software needs. You can create a plan from data center architectures to budgets and service-charging in advance. So, SAM can help create some strategies for more flexibility and agility.
Manage Vendor Relationships: You can improve vendor relationship management with SAM by keeping an open and consistent dialogue with vendors. It can help ensure vendors understand the needs and software asset management goals.
Audit Simplification: You can ensure compliance with laws, regulations, contracts, and licensing agreements via software audits. Your organization may face financial loss as well as loss of confidence in the organization and products or services. Hence, SAM ensures constant management and communication with software vendors. It is imperative to know the organization complies.
Control Over Cloud Software Usage: SAM can be easily downloaded and installed from a vendor or the internet. So, you can install software even without IT intervention. You can use the SAM tools to spend all-around control of cloud software. Also, it will provide transparency for the devices and aspects of cloud software products the organization is using.
How Do I Get Started with Software Asset Management?
Follow the below process, and get started with SAM.
1. Learn and Know More About SAM
Get software tracking throughout the business to be aware of all the IT expenses or applications flying under the radar.
Have clear visibility into the software stack, software spends, and entitlements.
Use data analytics and usage information to optimize software spending. It can help in investing appropriately in beneficial and required applications.
Get the ability to share data across IT and operationalize software data for consumption by peers in APM, ITSM, Procurement, SecOps, and HR.
2. Determine Your Business Goals
The upcoming business events may add a lot of pressure on SAM professionals. They may be asked to rationalize the software companies use and justify software spending. That's why here are the pointers that will make you able to answer how you can achieve your business goals with SAM software.
Just focus on the application and its cost for the Company-wide software inventory event. Also, know the answers to questions like downsizing or reducing redundant applications.
Understand the upcoming audit preparations and largest exposures for the Software publisher audit event. Have all the data required to reduce the time and resources attending a software audit.
Know all the major impacts of your transition for the Moving to the cloud questions.
Develop a proper chart and plan for budget management. Calculate everything current spending, where you can save more, the largest cost impacts, and more for the Budget planning meeting.
Learn how you can use the latest software for all mergers or acquisitions. You can get something for everyone from your old employees to new ones.
Provide software to your new employees within the onboarding process quickly and seamlessly. Also, take back and reassign licenses when employees leave the company.
3. Develop an Implementation Path Plan
You can start ITAM implementation by charting the complete roadmap and working towards it.
Manage the license compliance, track your software usage, and get a complete knowledge of the software you already have and future needs.
Keep updating your inventories to be ready for a smooth and less time-consuming audit process.
Move away from your on-premise software or reduce them to make a seamless transition into the cloud.
Identify where you are under or over-licensed in order to reallocate your available licenses. It will cover your needs, saving you money on new licenses and reducing audit risk.
Avail and manage software assets effectively during a merger or acquisition. You will be able to onboard and offboard employees quickly and efficiently.
Support other IT and business-related initiatives and goals simply by powering the software data.
4. Establish SAM Outcomes
It is time to know how much you have gained using ServiceNow SAM software. Just create a list of business needs for which you have been searching this software. You have to ensure you get positive outcomes within a reasonable time frame. Include all the factors such as
Builds an accurate software inventory of used and discovered applications and maintains it well.
Reduces or eliminates the true-up costs
Merges the redundant software or overlapping services
Supports automated processes and workflows
5. Regularly Revisit and Adjust Your SAM Goals
The final step is to revisit goals applicable to all the departments. It takes place in every level of business to readjust your SAM goals, needed as your business needs change. You can maintain visibility into your overall SAM strategy to be accountable for the goals you've set for yourself.
Features to Consider While Choosing a SAM Tool!
You have to understand the features you can get and what you need. Here is a comprehensive list of features you can get with the ServiceNow Software Asset Management (SAM):
Automated Discovery: You can detect installed software in your environment with the help of automated discovery.
Normalization: You can compare the discovered publisher, product, and version with the help of the normalization process. It gets detected against the ServiceNow repository of normalized values.
Reconciliation: You can calculate the compliance status of software products. It can also discover installations and define software models and entitlements.
Licensing: You can enable the creation and maintenance of software models and entitlements. It can help you import software entitlement data and the capability to clear software entitlement import errors.
Remediation: You can get selectable opportunities to acquire and maintain a satisfactory compliance position.
Optimization: You can reduce non-compliance or software spending. Just have to uninstall the software from devices and reclaim that software in the right way.
Dashboards: You can get complete software-related information in the statistics and charts forms. For such procedures, you can use the inbuilt Reporting Engine and Performance Analytics.
Get the Most Out of ServiceNow SAM with Aelum Consulting!
So, this is a complete guide that can help you understand software asset management. It can help you transform the whole organization experience just with a single SAM platform. It can include the organization's costing, budgeting, strategizing, and decision-making processes. All of it will be in the internal or external acquisition, use, and disposal of on-premises or cloud software resources. But how can you get the most out of your SAM?
Aelum Consulting can give you a hand. Our experienced experts can guide you through the complete procedure as well as provide you with time-to-time consultation for your software. We can help you understand how your system is working and how you can make it better.
So, don't wait for long! Just get started on the path of success with Aelum and achieve anything without hassle.
FAQs
1. What does Software Asset Management do?
SAM helps in reclaiming the budget as well as increasing savings. It is a business strategy that works by actively controlling and automating procurement, usage, and deployment of software licenses.
2. What is a Software Asset Management Service?
Software asset management service is a solution that provides a platform to various organizations for managing and optimizing the purchase, deployment, maintenance, utilization, and disposal of software applications.
3. What are examples of software assets?
Software programs, software licenses, data rights, documentation, software development agreements, maintenance agreements, etc., are some common examples. Organizations can use these assets typically in the conduction.
4. Is Software Asset Management part of ITIL?
Software Asset Management practice is one of the crucial parts of the ITIL. It comes under the foundations for all other ITIL practices and neglect. You can bring the organization a lot of risks, like finding it hard to provide effective and optimized services with such practices.
5. How to Start Implementing ServiceNow SAM in Your Organization?
You can follow the 4 Tier Capability Blueprint as a strategy for implementing and maturing a Software Asset Management program.
Identify your trustworthy data and understand what you have to manage your asset better.
Drive immediate benefits with SAM. It can enhance the practical management controls and drive.
Use the operational integration to enhance efficiency and effectiveness in other areas, such as Request, Procurement, ITSM, etc.
Utilize strategic conformance and achieve best-in-class capability.
Thanks For Reading
Read More on Aelum Blogs
Author: Bhumika Vashist
Designation: Technical Content Writer